If you are an outdoor enthusiast, you will need the best inexpensive sleeping bag. In this case, you probably are thinking about which sleep bag to buy.   
That's why we are here to explain and compare their weight and size, compactness, temperature, cozy, strength, and price. How do you stay warm camping out in the winter? Well, fire certainly helps, but you can't take fire to bed with you.   
A sleeping bag is useful for a backpacker or camper. It does not only require sleeping, but it helps as a shield in the cold winter nights, and having the right sleeping bag can make your trip more exciting.  
It is also handy for someone who needs to save space in their backpack because it can be packed down very small. 
We explored the best inexpensive sleeping bags after tested them one by one. Every sleeping bag has its worth and specifications.  
Every sleeping bag has its worth and specifications. You should choose which you want, and for that read the full article before deciding. 
In this article, you will also find sleeping bags for adults or old. This is a complete fledge guide for all ages if they are men, women. 
We are a tester and delivering the quality with the best but cheap sleeping bags for you. These bags are comfortable even on freezing nights and at a very affordable price. All the sleeping bags below come with a stuff bag.  
Also, check out this guide where I have compared the best affordable camping stoves. 
Best Inexpensive Sleeping – Our Top Choice: 
AEGISMAX Outdoor Ultra-Light Goose Down 
TETON Sports Celsius XXL Sleeping Bag 
Terra Hiker Down Sleeping Bag Mummy 
Kelty Cosmic 20 Degree Down Sleeping Bag 
A Comparison Table for Best Inexpensive Sleeping Bag 
| Model |  Temperature | Fill Material | Weight | Shape | Price |
| --- | --- | --- | --- | --- | --- |
| Hyke & Byke Eulos | 20 °F | Down | 2.80 lbs. | Mummy | Check Price |
| Kelty Cosmic Down | 20 °F | Down | 2.8 lbs. | Mummy | Check Price |
| Terra Hiker Down | Comfort | Down | 2.5 lbs. | Mummy | Check Price |
| TETON Sports Lightweight | 30 °F | Synthetic Insulation | 2.8 lbs. | Mummy | Check Price |
| Therm-a-Rest Saros | 20 °F | Synthetic Insulation | 3.18 lbs. | Mummy | Check Price |
| TETON Sports Celsius XXL | 20 – 30 °F | Synthetic Insulation | 7 lbs. | Rectangular | Check Price |
| Kelty Tuck 20 Degree | 20 °F | Synthetic Insulation | 3 lbs. | Mummy | Check Price |
| Redcamp Sleeping Bag | 32 °F | Cotton | 2 lbs. | Rectangular | Check Price |
| Marmot Trestles | 30 °F | Spirafil high loft insulation | 2.20 lbs. | Rectangular | Check Price |
| BISINNA With Pillow | Comfort | Down | 0.97 lbs. | Semi-Rectangular | Check Price |
Temperature: 20 Degree 
Size Available: Long, Regular, Short 
Fill Material: Down 
Weight: 2.80 lbs. 
The Eolus 800 fill power goose down sleeping bag comes in 15- or 30-degree Fahrenheit temperature ratings. It has a streamlined design with vertical baffles to facilitate even temperature distribution from head to toe.  
Even if you are camping under a lightweight tarp, sleeping in the tent, RV, and Van camping, or survivalist camping, this multi-season bag is set up with durable and flimsy material that will keep you cozy. 
 Its nylon fabric is waterproof and has a silky feel that is very comfortable for your skin, and the Down insulation volume inside the bag helps enlarge the loft and reduce the weight and lessen the size.  
It has a long zipper on the right side with the slider, which lets you open the bag's downside while remaining zipped around your head.  
For additional temperature control, the hood area has drawstrings adjusted to provide you with optimal thermal management to maintain body heat.  
The hood is the place where you can keep a small pillow. There is a shoulder strap that can be attached around your neck to prevent cold drafts.
It closes around the face to create a comfortable and safe cocoon that keeps your ears, head, and neck warm in the freezing weather.  
This sleeping bag comes in three lengths the short is five foot six inches, the regular six-foot, and the length is six foot six inches allowing the Eolis series to fit all shapes and sizes.  
This classic mummy-style bag with 800fill power goose down is hugely light packed small and is durably built to keep you warm season after season. 
Temperature: 20 degrees  
Size: Short, Regular, Long, Women's 
Fill Material: Down 
Weight: 2.8 lbs. 

Kelty cosmic 20-degree sleeping bag is a budget-friendly down-filled sleeping bag packed with features and an excellent value for the price. 
The first thing to point out about this bag is it's filled with 600 fill power dry down.
The vital thing to know about dry down is that it's traditional down, coated with a hydrophobic coating, so it holds up better in wet conditions than regular down.  
It will dry faster and, in the end, keep you warmer in damp or humid conditions compared to the regular down. 
Moreover, it is a traditional mummy style bag, which comes with a hood on the top, which you can pin down to keep the heat.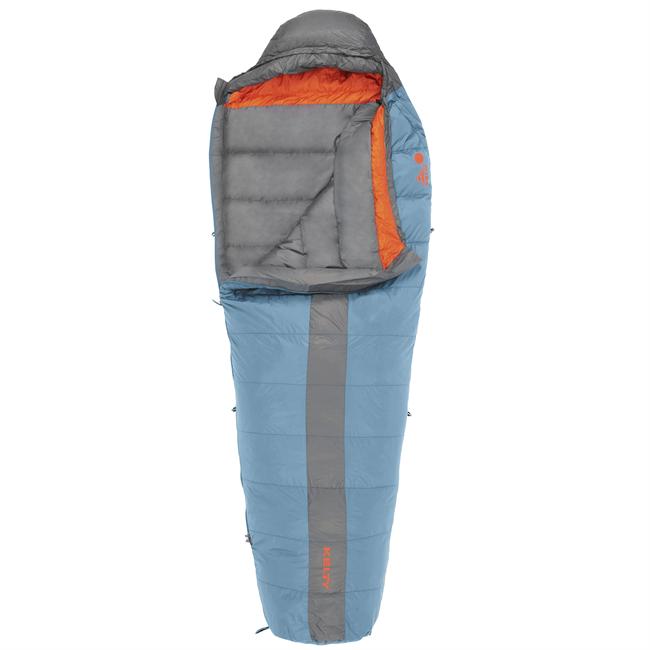 If you're getting close to that extremely cold temperature it does taper in towards the foot box.  
It also has a full-length zipper. It is a two-way zipper. There is a draft tube behind the zipper to keep out cold air from coming through the zipper.  
You also have an anti-snag durable material on both sides of the zipper so that you're not going to catch or snag that lightweight liner material. 
There is a draft tube behind the zipper keeps out cold air from coming through the zipper.  
It's a small feature, but it does make a big difference. This is considered a men's bag, but it comes in three short, regular, and extended sizes. 
It is a great quality sleeping bag for the price since it down fills you can pack it down to be nice and small, so it comes with an included stuff sack.
Temperature: Comfort 
Size: Average 
Fill Material: Down 
Weight: 2.5 Pounds 
Third, our list of the best inexpensive bag is the Teraa Hiker Mummy Sleeping bag for four seasons. 
It has 221 reviews, 4.8 out of five stars, has a 350-gram filling, and has a temperature range of10 degrees C to minus 10.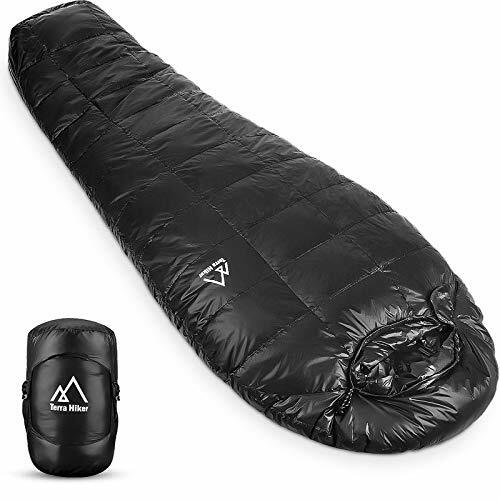 The cover is waterproof and has a ripstop fabric shell. It is warm and comfortable and is filled with breathable hollow yarn, which makes it much. 
It also has a drawstring hood, which covers your face and head and keeps you warm.
The other good thing about this sleeping bag is it has got a very roomy design, and it measures 215 cm by 885cm in the chest area, which is excellent for someone who's about six 6ft in height also comes with a large compression bag which solves the hassle of packing. 
Temperature: 20 Degrees 
Size: 84″ x 32″ x 17″ 
Fill Material: Synthetic 
Weight: 2.8 Pounds 
TETON Sports Lightweight Sleeping Bag and packs down tight, it is 87 inches long 34 inches at its widest point and 22 inches at the bottom. 
This bag is a remarkable ultralight sleeping bag which is designed for your comfort the TETON Sports sleeping bag is made from a sturdy 75 D ripstop fabric. 
This material is water-resistant and won't tear even if it's punctured, and taped anti-snag zippers are easy to close from inside or outside of the bag. 
It also includes an interior zip pocket for your wallet or keys it's filled with multiple layers of the innovated micro polar light insulation to keep you warm. 
This fill shapes to your body and features body mapping technology, and built out foot box which gives extra fill in specific areas to keep you warm, so you sleep comfortably. 
Additionally, it comes with a hood on top that contours to your face and can cinch down tightly for added warmth. 
The full-length zipper draft tube keeps the warm air from escaping, and the double brush liner is soft and won't stick to your skin. 
The TETON is perfect for three-season backpacking especially in the cooler months it weighs only 4.1 pounds and fits nicely into its stuff sack. 
The ultra-light backpack sits exceptional quality at an affordable price.
TETON sleeping bag like all TETON products comes with a limited lifetime warranty which means if you have any questions, we've got your back. It is also one of the best affordable sleeping bags. 
Temperature: 20 Degree 
Size: Small, long, regular 
Fill Material: Synthetic 
Weight: 3.18 lbs. 
Crafted to ensure that cold and damp conditions and don't dampen your sense of adventure.
The Therm- a-Rest Saros synthetic sleeping bags guarantee campers and backpackers better nights at cam. 
The Saros sleeping bag is available in three temperature ratings, providing camping and backpacking options in all seasons and conditions. 
The ultra-cozy sleeping bags are available in a lightweight 32-degree Fahrenheit zero degrees Celsius version.
A versatile 20degree Fahrenheit negative six degrees Celsius version, and a cold-weather zero degree Fahrenheit negative 18 degrees Celsius version. 
The bags use lightweight air loft insulation, which boosts thermal capabilities while saving weight. 
And its synthetic fill naturally repels water while camping in cold and damp conditions. 
To maximize your comfort at camp, Saros features zoned insulation, which saves weight by placing fill where you need it most and synergy connectors securing the bag on your pad to prevent cold spots. 
Pairing these features with the foot box oversized raft tubes and a full-length snag-free zipper makes the Saros one of the comfiest synthetic sleeping bags available. 
When it's time to get out of camp, Saros bags fits easily into its sack. 
Temperature: 0 Degree 
Size: 90″ x 39″ Right Zip 
Fill Material: Synthetic 
Weight: 7lbs. 
An inexpensive sleeping bag is a must-have for anyone who wants to enjoy a good night's sleep after a long adventure. 
That's why you will need TETON Sports Celsius and a unique sleeping bag made to keep you warm outdoors. 
This 3season sleeping bag comes with a zippered draft tube that provides easy-in-and-out access to the bag. This sleeping bag also has internal storage pockets where you can stash small items and keep them organized. 
The Celsius XXL interior has super loft hollow fiber insulation, which can keep you warm even below freezing temperature. It also features a mummy hood, which provides additional warmth for your head. 
You can zip TETON Sports Celsius for additional sleeping space while its fabric makes it durable to withstand any weather condition. 
Weighing at around 7 pounds, the Celsius XXL is super compact and portable, making it the perfect sleeping bag for a camping trip with excellent reviews and customer ratings. 
Temperature: 20 Degree 
Size: Regular, Long 
Fill Material: Synthetic 
Weight: 3lbs. 
One of the cheap sleeping bags available, it is capable to comfortably accommodate backside hot cold and any other type of sleeper. 
Thanks to the oversized adjustable mummy design, two layers of ThermaPro synthetic insulation and temperature regulation features. 
The bag includes a built-in blanket that lets you cozy in the bag, or it could be used on it's during warmer seasons. 
The comfort zipper system will let your feet breathe, plus the hood was perfected to fit a standard size pillow.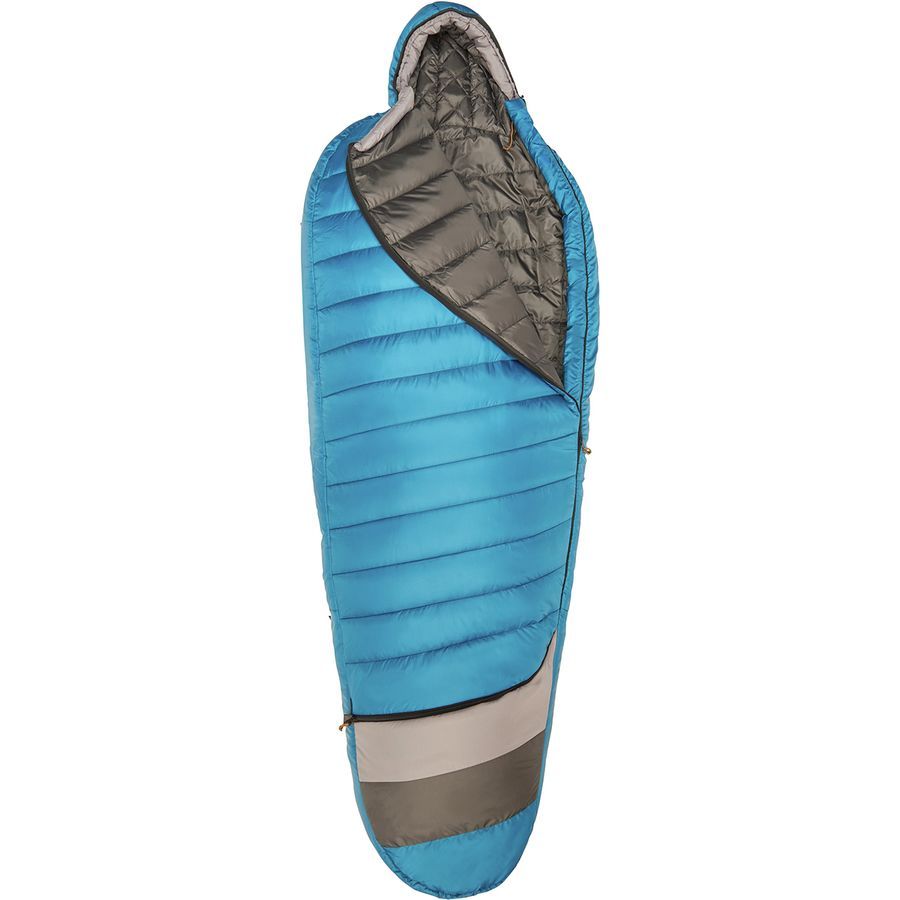 The Kelty Tuck is both for men and women and double configurations and rated 20 degrees.  
The straps on the side allow you to secure the Kelty sleeper to the sleeping pad, plus there are a convenient stuff sack and loops to hang it for storage. To fit any person, there are four sizes available. 
Certainly, Kelty Tuck is designed as a comfy solution for restless sleepers. The bag has a mummy shape, and there is so much room for you to toss and turn during sleep.
The pack also comes with a hood top designed to make sure the heat is maintained inside the bag. 
Temperature: 32 Degree 
Size: X-Large 
Fill Material: Cotton 
Weight: 2lbs. 
This is a very lightweight, soft and comfortable sleeping bag straightforward to roll up and an excellent three-season sleeping bag.  
I would highly recommend it for warm-weather camping. It's not for winter camping but perfect for other seasons, the portable sleeping bag can be compressed into a small size bag.  
High-quality 210T polyester ripstop fabric, waterproof and can be used for many years.
It provides backpackers with a super compressible ultra-roomy and comfortable sleep experience on the trail.  
With careful attention and thoughtful features throughout the bag is a smart fit and delivers warmth and unprecedented space at a small pack size.  
And when you extend it, it has enough length for most people because it made of cotton, so you won't feel cold when you sleep on the ground at night.  
These sleeping bags are fantastic; they are super lightweight but incredibly warm, especially with the flannel inside.
The flannel pattern is an excellent interior fabric compare to some of that are over soft and prone to pilling.  
It is the best affordable sleeping bag exceptionally comfortable while providing necessary warmth to sleep comfortably. Soft, warm and cozy! Durable material and wash up well. 
Plus, it's only rated at 41 degrees or above, and I'm sure it'll still be hot if you use it in that temperature reach.
It is a rectangular style bag that comes with a zipper that has two directions so you can close the sleeping bag on either side. 
Temperature: 30 F 
Size: Large 
Fill Material: Spirafil high loft insulation 
Weight: 2.20lbs. 
A perfect budget-friendly option for any camper is the Marmot trestles 15-degree sleeping bag.
This is a warm hefty sleeping bag that gives you reliable performance. 
Despite its attractive cost, it has got a straightforward but powerful synthetic insulation along with a pleasantly relaxed mummy shape to improve your camp relaxation.  
This is not likely to be a bag which you will want to think about to go outdoor sleeping because it is a bit heavy.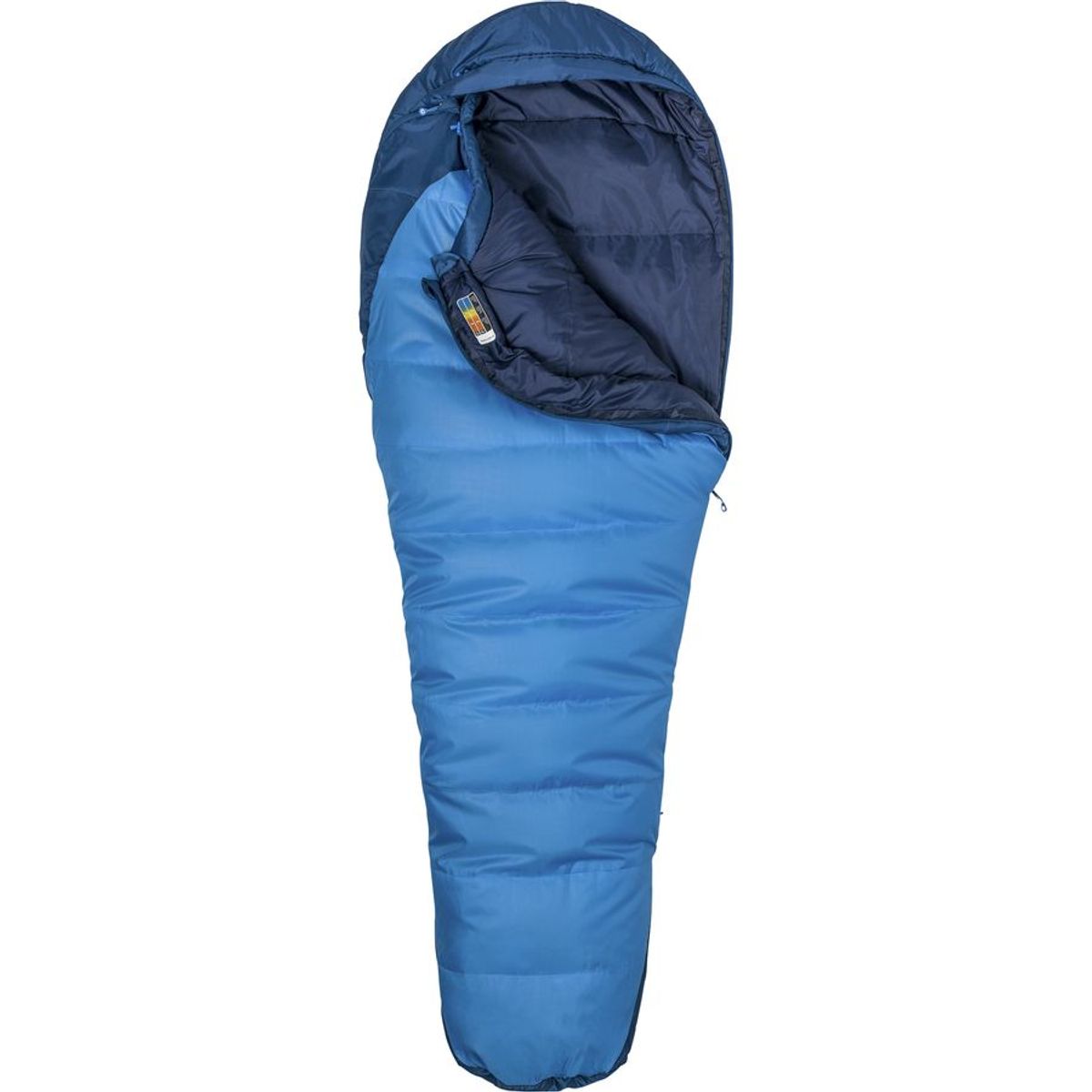 It is mostly suitable for those who want to camp for enjoyment or someone who is trying to go out a couple of times per year and would like a fantastic warm bag at an affordable price.  
The Trestles 15 is useful for three-seasons; it has got an EN Rating of 16 degrees in the lower limit. The temperature rating is around 27 degrees, which means it is still a pretty warm sleeping bag.  
The durable polyester material of the bag is high quality, and the 70D shell is 100% waterproof, and if it gets wet, it can dry fast. So, you will get a comfortable sleep even in the wet climate. 
The bag is filled using a Spirafill LT Synthetic insulation and has an edge in certain situations like in moist or damp conditions.
It could get you better functionality than a classic down-filled sleeping bag.  
Additionally, it will come with a stash pocket up in the top shoulder of the bag where you can keep the small items, mobile or headlamp. Indeed, it's the ideal sleeping bags for adults. 
Temperature: Comfort: +11° C/52° F, Lower Limit: +6° C/43° F, Extreme: -9° C/15° F 
Size: Large 
Fill Material: Down 
Weight: 0.97 lbs. 
One of the main things that draws people to this bag and makes them curious about it is that tremendous affordable price in comparison to other ultralight sleeping bags. 
The weight of this bag is 14 ounces; it is a mummy bag, so it does hug your body like a mummy bag typically would. 
But one thing that's different about it is many mummy bags have a hood that your head can lay within and then you can cinch it up. 
So, if it's so cold in the winter sometimes, you need to do that, and the only thing that's exposed to the air is a little bit of your face. 
Aegismax does not have that hood, it goes up to the right about your neck, but it does have a cinch at the neck so you can cinch it to your neck.
One thing to note about the Aegismax is that the fabric on it is very thin, so you're should be careful around those specific things like fires sharp rocks and branches. 
Agismax claims that is a three-season sleeping bag, so it probably would not be suitable in cold weather.
But when it is not so cold outside the temperature drop down at night, and you need a little bit of warmth, this would be a perfect bag for that. 
Lastly, this inexpensive sleeping bag is stuffed with an 800-fill goose down, and the outer is made of an ultra-light 20D nylon waterproof material. 
Things to Consider Before Buying Best Budget Sleeping Bag 
Everyone needs a good quality sleeping bag at an affordable price, but there are a few key factors you should consider.
I evaluated some points from the experts, which contains essential information and will help you choose the best budget sleeping bag.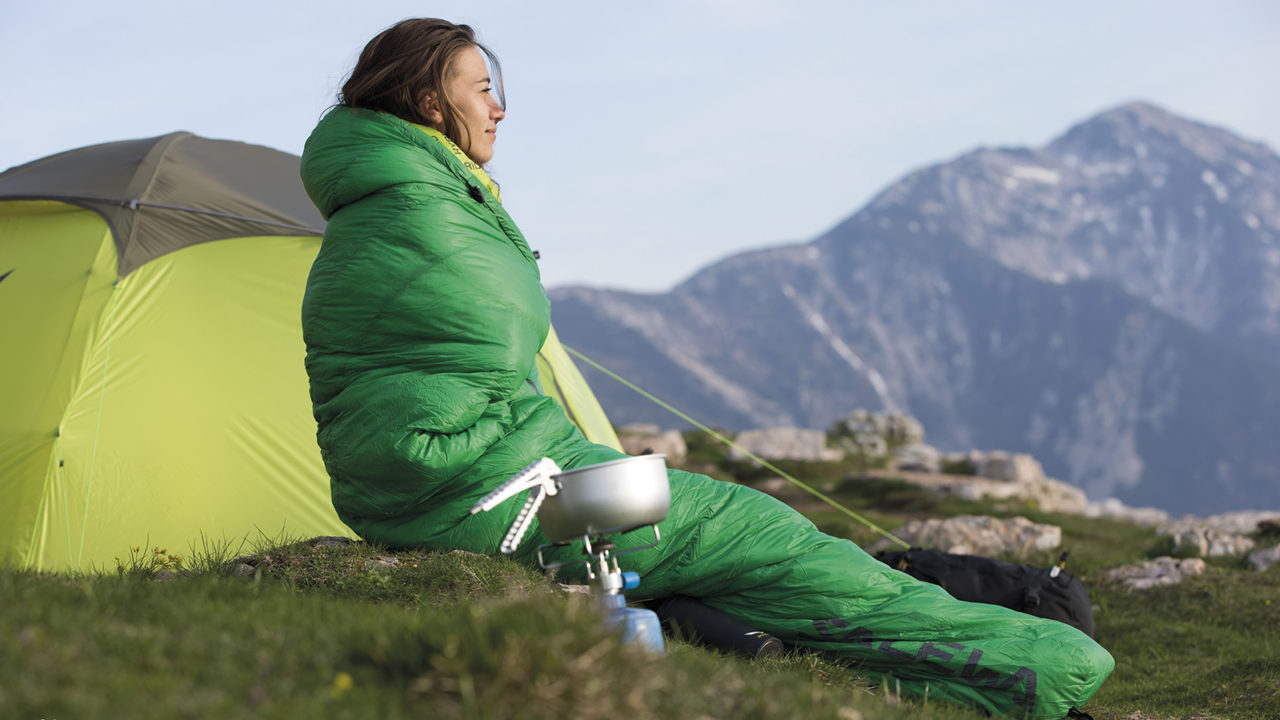 1- Types of sleeping bag
The first and essential thing is the types of the sleeping bag. If you have an idea of buying any bag, then you must know the types before purchasing.  
Sleeping bags have three categories, 1. Summer, 2. Three seasons, 3. Winter.
They have different temperature ratings every season, and you can choose which you want according to the season.
Still, one crucial thing decides it according to your atmosphere temperature.  
Sleeping bags comes in different types such as temperature rating, insulation type, shape of the pockets like; Mummy, rectangular, semi-rectangular, and all of them comes in sizes.  
However, it does not matter what type of sleeping bag you may have, but they aim to give you a good night's sleep after a long day camping or hiking.  
Please choose the one which meets all your requirements and all your needs with its specifications. You can also customize them with additional features like a zipper, bag hoods, bag shells, stash pocket, etc.   
I am exploring some other features which are necessary while choosing the best budget sleeping bags.
2- Inexpensive sleeping bag temperature rating
So, the 1st point is that the temperature rating in it, the temperature is the warmness according to the surroundings, and the rating is the point that is measurable via scale.  
So, putting the things closer to the sleeping bag's temperature rating is the minimum temperature any sleeping bag can handle easily.  
There are no universal methods for measuring the temperature rating of any, but we can guess easily how they feel and how much they can be affordable.  
A new standard rating was announced for measuring EN 13537, which is divided into other three categories. 
– Upper Limit
– Comfort 
– Lower Limit 
As the name, you can guess easily why they divided them into these categories. 
3- Waterproof cheap, lightweight sleeping bag 
One of the important things about safety in the bush is always being able to keep yourself warm. Now, one of the critical things that will keep you warm is always going to be a sleeping bag.  
It will be the warmest thing you have in your pack, so it is essential to keep it dry. Just imagine what will happen if you are sleeping outside and you get damp in your tent.
You will not get anything like as cold and wet, and you would if you had a regular sleeping bag.  
Another important thing you should consider in a sleeping bag that should be breathable while sleeping.   
You might get sweat while sleeping in the bag. It is due to the breathability feature. If the bag is with great breathability feature, then you will not get sweat while sleeping.   
Rain? Snow? Dust? A sleeping should handle It is the power of that.   
4- Lightweight and Compact
Another thing to consider while choosing a sleeping bag is that it should be a lightweight and compact bag.
Why should you choose a lightweight and full close bag? You know the answer to this, but I will clarify it more. Lightweight bags help you carry everywhere; it will help you pack and handle easily.  
It is useful for saving more space in the backpack, and we all know that space matters a lot in backpacking.  
According to the sleeping experts, it is necessary to look for lightweight and cheap sleeping bags according to your demand.
Researching before buying something is better than closing the eyes on some one's idea or guide.   
Lightweight means the bag should not add a lot of weight to your pack.
To make it easy for you, I have researched and found the ultra-lightweight sleeping bags and that shrinks up to look very small and free up a lot of space for some of those other things inside the bag.   
Therefore, check the description of every bag and the specification before purchasing to make your trip enjoyable. 
5- Down or Synthetic Insulation 
Down & Synthetic insulation in a sleeping, which is best? 
Down: 
Let's start with down installation; down is effectively the fluffy plumage underneath the bellies of ducks and geese, and the job of this plumage is to keep their eggs warm by trapping warm air from the bodies of the ducks and geese in the filaments and air spaces of the down. 
Similarly, in a sleeping bag, that will effectively work the same way. The down cluster will trap warm air from your body in the air spaces and filaments. 
To work effectively, down needs to be superfine, have lots of filaments, and be super fluffy. But the softer the down is, the more space it can occupy and the warmer air it can trap. 
Down is warmer for its weight than synthetic, and with proper care, down maintain its shape for many more years than synthetic insulation does.
Down is best used in cold, dry conditions where there is not a threat that you are going to be caught in a rainstorm. It is also useful when you are focusing on the weight of your pack, and it is much lighter. 
Synthetic Insulation:
Synthetic insulation is well known for its solid general execution and amicable sticker price. Commonly made of polyester, synthetic fill is quick-drying and protects whether wet (something down battles to do).   
Many different technologies fall under synthetic insulation, but the result is similar. Additionally, synthetic insulation will retain most of its warmth when it gets wet, which is essential in outdoors. 
If you are on a budget, the synthetic insulation is usually cheaper than down too, and it is also easier to care for, it is usually machine washable. 
So where is synthetic insulation most effective? It is highly recommended when you are not sure what the weather is going to do.
It is also suitable as an active piece because synthetic insulation manages seat and moisture much more effectively than down does. 
Final Thoughts:
Probably, everybody, had a really cold miserable night sleep in the backcountry. That can ruin a whole trip, and we don't want that to happen to you.   
Therefore, we researched and helped you find out the right and inexpensive sleeping bag that will keep you warm and comfortable. And have you wake up in the morning with a smile on your face.  
So, let us know your thoughts in the comment section about this list of best value sleeping bags. 
Disclaimer: Some of the links above are affiliate links. This means that I get a small commission when you purchase something from my links, AT NO ADDITIONAL COST to you. Thanks for the support!